Kitchen Remodeling – how to choose the best lighting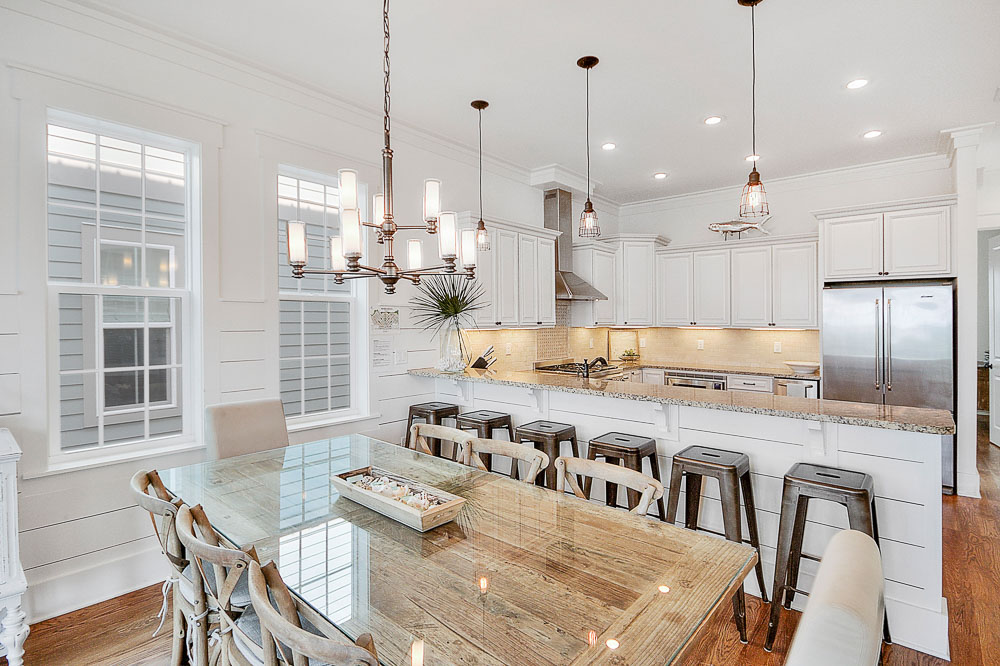 Perhaps the most important considerations when updating a kitchen is lighting, both to add a functional workspace and elegance to the area. A kitchen lighting rebuild will at the same time increase the general worth and solace of your property. Here are a handful of the most common types of lighting that benefit a kitchen, that are used during a kitchen remodeling project:
Drop lighting
A morning meal bar or end counter where lighting should be its best are ideal spots for drop lighting. Otherwise know as pendant lighting, drop lighting is commonly used as work lighting, you will achieve superior control and delight in the atmosphere drop lighting creates on account of the array of style choices.
Recessed lighting and Pot lighting
These are chic and trending lighting installations, tucked away flush with the roof of your kitchen. Recessed lighting is best introduced during a remodel considering that your local electrician or electrical contractor require opening small holes in your ceiling to mount them, and care should be taken not to damage your insulation or soundproofing in your home. Consult with your remodeling electrician when choosing your recessed lighting fixtures whether you will need IC or Non-IC fixtures. ("IC" stands for "Insulation Contact" which is used the prevent possible fires in the home.
Under-cabinet Lighting
Normally, these lights are fixed to the underneath of your cupboards and assist with lighting your counters and sink. You may wish to install these yourself. They are sold at most hardware outlets and require little effort to install. However, they do require power from an electrical outlet. This will take up one or more of your electrical outlets and the cord from the outlet to the lights may also look undesirable in you newly remodeled kitchen. A licensed electrician in your area will install them perfectly with function and aesthetics in mind.
Chandeliers and ceiling fans
Before choosing a chandelier, consult with a local residential electrician who will advise you in regard to the wattage limits and mounting requirements for your overheard lights. Chandeliers make a wonderful visual impact within a room and often complement the focal point of a room to create charm and elegance within a room.
A roof fan can assist with temperature of a room; however they never look as pleasant. Remember that in some areas of the country, the installation of a new ceiling fan may require a permit.
Bulbs and switches matter
When you select your lighting fixtures, you want to consider what sort of bulbs are going in them. The most financially savvy choice available is LED. They have the longest life expectancy of the accessible bulbs, and run on minimal power.
Additionally, each of your different lighting types should have their own switch. Your recessed lights will require a different circuit from the under-cabinet lights and chandeliers. Get advice from your local electrical contractor about installing kitchen lighting which offers great value for money within your home.
MJ Rooney Electrical Contracting offers Residential Electrical Service in Westchester County, New York and Lower Connecticut. Call +1(914) 681 1334 today for a free quotation